Fake Freshers - Don't get done!
---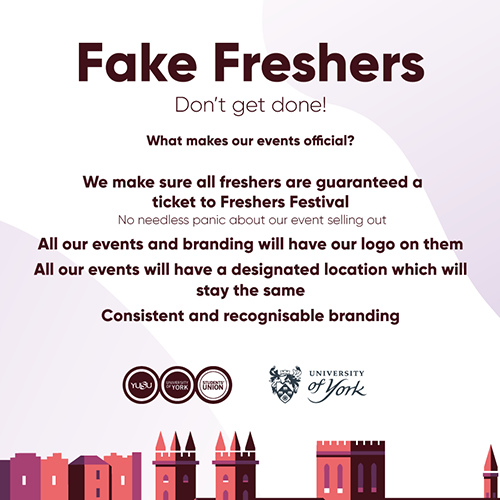 We're so excited to meet all our new Freshers, and can't wait to host you in the biggest and best Freshers' Week events at York. However, every year some unofficial events start popping up over the summer on social media, claiming to be the only 'official' Freshers events in the city. We're here to make sure you buy the correct event tickets, are kept safe during your time here and don't get done by one of these companies!
Your first week at University is a great time to make friends and introduce yourself to York's nightlife. Here at York you will be in one of 9 colleges, with each one having their own action packed Freshers' week as well as rounding off your first week with your Students' Union's (us!) line up of events.
These events represent your ONLY Official Freshers' week here at the University of York! Below is the Official Facebook event and group where all information on Freshers can be found in the coming months. Enjoy your summer and don't panic about events selling out before it's even been results day!
What makes YUSU and College Freshers' Week events 'official'?
We are directly affiliated with the University of York, and work closely with them and your college to deliver fun, safe and inclusive events for you. We have key trusted partners throughout the city that also work with us, including York Parties and Streamline. Our events, alongside the college's, are the only social events that guarantee to deliver. Also:
Often, the 'unofficial' events will use panic to scare and make you feel like you'll miss out.
All of our events on social media will be made with a college or YUSU branding, and feature the appropriate logos
Our branding will always be consistent, across of all our events and online.
The locations of our events will NEVER change suddenly.
What's bad about the 'unofficial' events?
These events are not guaranteed to be for just students, safe or necessarily legal. Sometimes, they're just completely made-up to make the companies a quick buck!
How can I spot an 'unofficial' event online?
Take a look at Nouse's article about how to spot a fake event here.
What to do if I think I've spotted a fake freshers event
Email (

[email protected]

) with a link to the event, and we guarantee to verify whether it is real or fake within 2 days.
Do NOT buy anything from the event until we have verified it, otherwise you could lose out on a lot of money.
What to do if I've bought a fake freshers ticket
Email

[email protected]

with a link to the event, and we will verify whether it is real or fake within 2 days.
Unfortunately, if it is fake, we can't help you to get your money back. However, we urge you to still share the link with us so we can share it with other students, and make sure you warn your friends about it.
Avoiding these companies is really important, because it is highly likely your housemates will have bought the official college and YUSU Freshers' Week tickets, and you will want to be able to get to know them!
If you follow our quick step guide below you need not worry, we have your back!
---