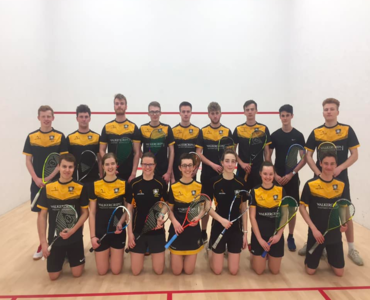 Squash Club
Sports
About Squash Club
The Squash club runs many activities during the year. We start by holding trials at the start of week 2 to determine who's on the team and the rankings. We have 2 mens teams and 1 women's team. We compete in a local league during the year and also in the BUCS league. Our teams play in Local league at least once a week as we have to fit in all the matches during term time. We hold training twice a week as well as social squash twice a week for non-team players and players who just play for fun! We also hold regular socials during the terms with a wide variety of themes! These can be a range drinking socials on Wednesdays or non-drinking ones during the weekend! We also compete in the Roses varsity with Lancaster, which with squash is always very intense and a good laugh!
---
Meeting Times
We have team training on Mondays 7-9pm, Social squash on Thursdays from 5-7pm, and then on Saturdays we have social squash from 11am-1pm and team training from 12:30 to 2:30pm! These all happen in out NEW squash courts in the Campus West sports centre.
---
Get Involved
Our clubs suits a wide range of people. Squash is great if you're competitive and like a challenge but also good if you're just looking to have some fun and meet new people during the social sessions! Squash can be very physically intense so it's a great way to keep active and increase your fitness! You can join by coming down to one of our social sessions, for free, and if you want to keep coming you can buy membership on the YUSU website!
---
AU Fee
This club is a Black tier sports club.
You must have already purchased a Black tier membership. If you have a Gold tier membership you can upgrade to a Black.