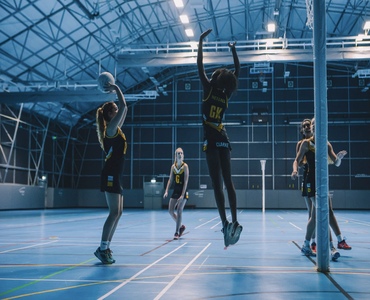 Netball (UYNC)
Sports
About Netball (UYNC)
The Netball Club (UYNC) is a group of 30 women that train 3-4 times a week in order to improve both our individual and team ability. We put forward three teams into the BUCS League and annual BUCS Cup and play our matches every Wednesday. The club meet regularly, train hard and have an active social scene. As a club we host numerous events each year, often with a focus on charity. These include our annual netball charity tournament, Kits and Tinsel and the Rugby Netball Charity Dinner. Whilst socials are a big part of our culture, they are always made to be inclusive and suit everyone; from themed nights out to movie nights in. The netball club are always looking to develop so we often end up doing new and exciting sporting activities each year, whether that's entering into new tournaments, training differently or getting external coaches. Whilst no year is the same, as a club we love that and are always excited to welcome new faces to UYNC. Want to get involved and learn more? Freshers are more than welcome! We will be at the YUSU Freshers Fair and soon after hosting our trials so look out for the netball posts!
---
Meeting Times
For the upcoming academic year of 2019/20, the club will train for two hours on the evenings of Monday, Thursday and Sunday. Our training sessions are all held in the indoor sports arena in the main York Sports facility. Commitment is key to our club; we are looking for driven girls that will work hard during training so that when Wednesday comes around, the club is always winning!
---
Get Involved
The netball club is a diverse and welcoming sporting club with inclusivity being a large foundation of our team. We purposefully have one of the most affordable membership fees in order to ensure equal opportunities are always provided. Joining this club means you'll be part of a wider family at York. You'll have a focus outside of your degree and, alongside developing your sporting ability, be a part of our thriving social scene. The club values excited individuals that are willing to learn; we are always looking for new faces, new ideas and new personalities. If this club sounds for you, come and see us at the Fresher's Fair to find out more.