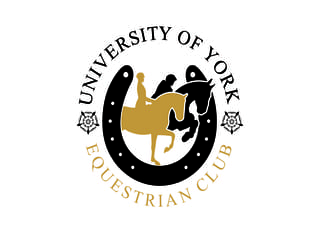 Equestrian
Sports
About Equestrian
Hello! We are a really welcoming sports club and accommodate all levels of rider. We run weekly riding lessons at Naburn Grange catering for absolute beginners, to those who have ridden all their life, in grouped lessons to suit your ability. We also have 3 BUCS competition teams who train at Snainton Riding Centre under the instruction of Charlotte Wilson. Competitions start at Novice level dressage and 70cm showjumping with the opportunity to qualify for regionals and nationals where competitions can reach advanced medium dressage and 1.20 showjumping. The teams also take part in Roses which is a really exciting opportunity to show the rest of uni what we do.
We run weekly socials varying from the classic Wednesday Salvos, trips to the trampoline park and 'bish bash pot', and some really exciting horse riding clinics and demonstrations. Along side this we will also be running a Tour so keep your eyes peeled for Tour 2.0 to top up your easter tan.
We can't wait to meet you so if you have any questions drop us an email!
---
Meeting Times
Naburn lessons are on a Wednesday afternoon (timing dependant on sign up numbers), with transport (pick up and drop off) arranged from the Roger Kirk Centre. All information about your lesson will be communicated via email.
Snainton lessons vary but we try our best to be accommodating and have a lesson on a Wednesday afternoon and one other weekday evening. Due to lesson length and travel time 3/4 hours is sometimes required to be put aside for a training session. Only one lesson is required a week.
---
Get Involved
Our club can suit anyone! Have you always wanted to try riding? University is a great place to give it a go and start with lots of people of a similar age.
Have you had lessons at home for years? You can keep your skills topped up while setting some time aside in your week for a destress in the countryside.
Do you love riding but with no interest in competing? Join the intermediate and advanced Naburn lessons to further your knowledge and expertise without any stress of performing.
Do you want to represent your university in competitions? Try out for our 3 BUCS teams and experience competing with a group who all have a shared passion for the sport.
The best way to get involved is to come and see us at freshers fair and signing up to our mailing list, or email us requesting to be added.
---
AU Fee
This club is a Gold tier sports club.
You must have already purchased at least a Gold tier membership. If you have a Black tier membership you can also join.